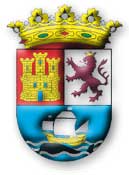 Information of this Town Council
Telecenter of Brieves o Telecenter of Cadavedo
CEPESMA ( Study and protection of sea animals )

Luarca ( asturtravel ) o Valdés (deasturias) o Luarca (infoasturias) o Valdés (Turastur)
Valdes (a-asturias) o Valdes (vivirasturias) o Valdés (guiastur) o Valdés (asturiasturismo)
LuarcaWeb o Turism in Luarca

o Luarca by Antonio
Natural Reserve of Barayo o Reserve of Western Coast
Natural Reserve of Esva Valley o Canyon of Esva river

Asociation of Rural Turism in Valdes
Hiking Route of "Los Llugarinos" o Hiking Route "Las Hoces del Esva"
Fiestas of Saint Timoteo o Fiestas of Valdés
Navelgas college o Barcia College o Palacio Valdes College

Moanes college o Otur college o El Vallin college o Padre Galo College
Camp site "Los Cantiles" o "Los Cantiles" (Other)
Camp site Tauran beach o Camp site Tauran ( More ) o Camp Site Playa de Taúran (Otra)
Camp site Otur Beach o Camp Site Otur (Other) o Camp Site Otur (Other)
Chess Club " Valdesva " of Trevias
Luarca Football Club o Sport Club Marchica o Karate Club Luarca
Information Technology Shop and Academy "Occidente"
Carcedo village o Personal web page of Luarca
Rural apartments "Casa El Abad"

Rent aparments in Cadavedo ( El paraiso de Juan)

Apartment "La Regalina" in Cadavedo village o "La Regalina" Cadavedo (Other)
Apartments San Martin o Apartaments "La Collada" (San Pelayo)
Country Boarding House "Albatros Viajero" (Cueva Beach) o C.B.House "La Posada de Luis" (Cueva Beach)
House El Contrucio ( Brieves )

o Country Boarding House "La Peredana" (Fontoria)

Country Boarding House "El Barciano" ( Canero ) o C.B. House "Casa La Fonte" o C. B. House "Los Glayus"
Country Boarding House "Las Golondrinas" in El Chano o "Las Golondrinas" (Other)
Country Boarding House " Los Limonares " in Canero o Rent House "La Casa Roja" (Cadavedo)
Country Boarding House "Mari Luz" o Country B.H. "L'agüera" o Country Boarding H. Rosario ( Cortina )
Country Boarding Houses "El Bolero" (Canero) o Country B. House "Fonte Pedrón" ( Villanueva )
Hotel "Torre de Villademoros" o Hotel Villademoros Tower ( More )
Hotel "La Colmena" o Hotel "La Colmena" (Other)
Hotel "Villa La Argentina" o Hotel Villa de Luarca
Hotel-Restaurant "Tia Maria" o Hotel Cabo Busto
Casa Consuelo Restaurant-Hotel
Hotel Restaurant "Rio Mayor" (Otur) o Hotel "Rio Mayor" (Other)
Marisol Restaurant o Villuir Restaurant